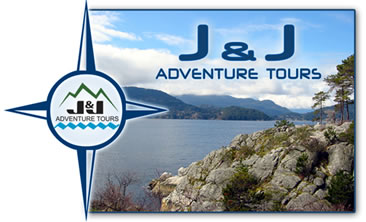 Welcome to J & J Adventure Tours. We specialize in custom educational eco-tours of British Columbia for small groups.
We speak Mandarin and Taiwanese, as well as English.
Judy is an ecologist with a deep knowledge of the plants and ecosystems of BC, and can share her love of nature with you. Jonathan has an in-depth knowledge of the marine life of BC, as well as being an expert in mushroom identification and cuisine.

Tour BC's beautiful islands, forests and mountains, visit back roads hot springs, charming Victoria, and exciting Vancouver, try out local seafood or mushrooms, enjoy our gourmet cooking, and learn how to enjoy the best that BC has to offer while protecting our natural environment.

We have special tours available for all seasons of the year. Learn English while on vacation with our study tours.
We look forward to seeing you! For more information about us, click here.
J&J Adventure Tours is a licensed Travel Agent with the Business Practices and Consumer Protection Authority BPCPA # 47902